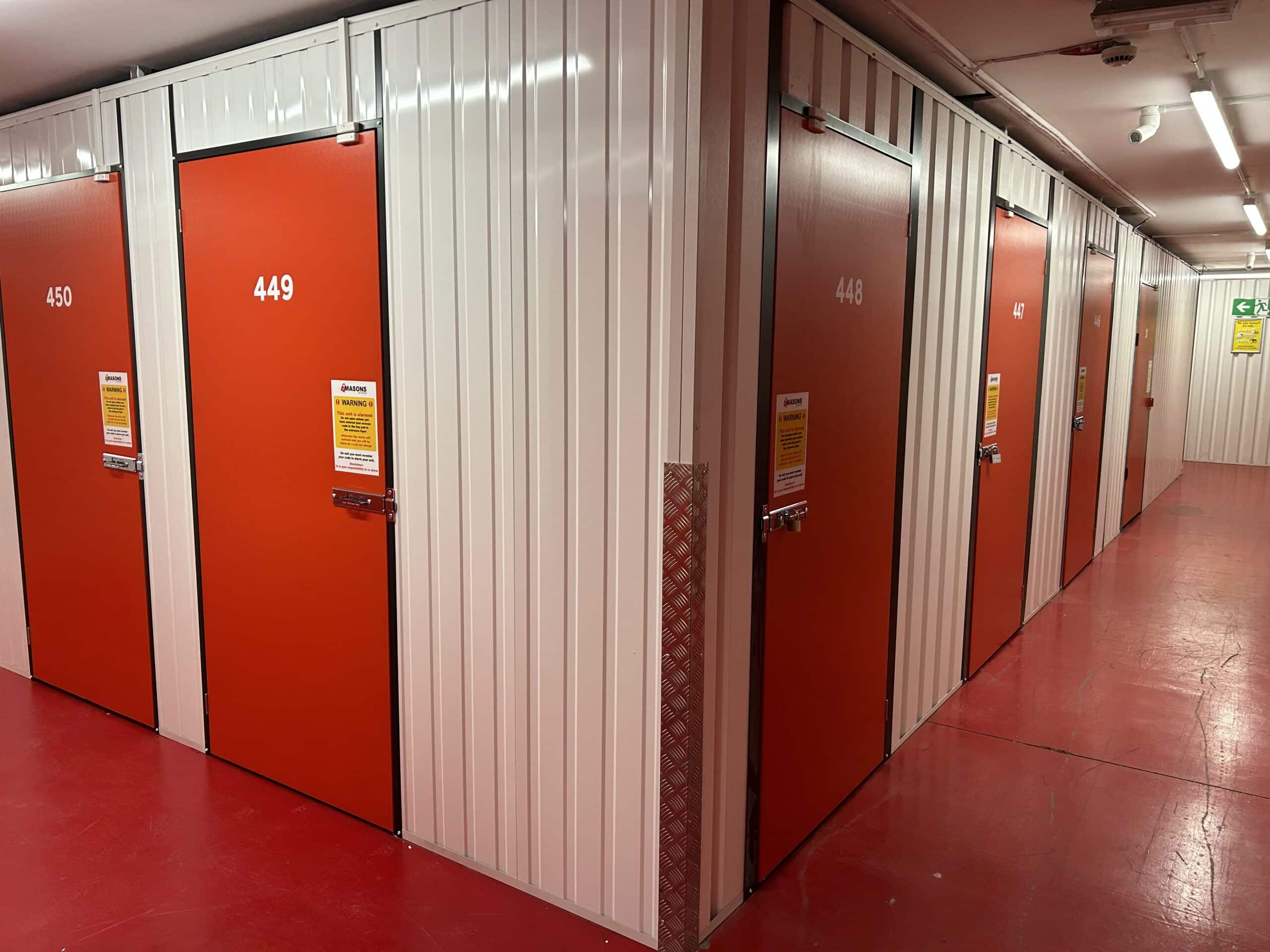 New Barry storage units in high demand
At Masons Self Storage, we value our customers' feedback, and we've listened to your requests for more storage in Barry. That's why we're excited to announce the recent expansion of our self-storage facility to better serve you.
We've transformed a spacious 1000 square feet (sq. ft.) area into 16 smaller, versatile units, providing even more storage options. These newly added units range from a convenient 25 sq. ft. to a generous 270 sq. ft., with various sizes in between. These units have been in high demand with 16 out of the 16 rooms already snapped up!
Making this all possible is our trusted service providers who completed the entire project in just four weeks, ensuring that you have access to the additional Barry storage you need in record time!
From revamp to expansion
Our latest expansion couldn't have come at a better time. We've just given our entire storage facility a stunning makeover, and now, our brand-new self-storage units are the icing on the cake for our thriving location next to the Barry Link Road in the Vale of Glamorgan.
Masons Self Storage Barry: More space, more convenience
Whether you're seeking personal storage for your cherished belongings or a secure space for your business needs, we've got you covered. More space, more convenience – that's our promise.
Choosing us gives you access around the clock, robust security that never rests, a dedicated team always at your service, top-tier infrastructure that sets us apart, and so much more. Our storage units are tailored to fit your unique space requirements, with sizes ranging from a cosy 12 sq. ft. to a massive 500 sq. ft.
Your shortcut to stress-free storage in Barry
Located just a short 10-minute drive from Cardiff Bay with seamless access from Junction 33 on the M4, we offer the ultimate convenience for homeowners and business owners in need of self storage in Barry.
But here's the best part—our commitment to convenience goes beyond location. With our recently introduced innovative Mobile Storage Service, you can skip the hassle of renting a van and even stepping out of the comfort of your own home. Instead, let us pick up your valuables at your doorstep and deliver them directly to your storage unit.
Your storage partner for your life and business journey
At Masons Self Storage, we're here to empower your life's journey. Whether you're embarking on a new chapter by expanding your family, simplifying life through downsizing, navigating the exciting yet chaotic world of moving, clearing clutter, or diving into renovations, we've got the best storage in Barry for both your short-term and long-term needs.
But we're not just about personal storage; we're here for all types and sizes of businesses too. Whether you're an online seller, a brick-and-mortar retailer, a tradesperson, or operating in an office, we understand that space constraints can be a challenge. That's why we offer a wide range of business storage solutions, including storage for stock, material and tool storage, archive and document storage, and storage for equipment and furniture.
For even more convenience, if you need your stock delivered directly to your storage unit, we can arrange that! Plus, you get exclusive access to our business support services and business lounge. We make Barry storage an absolute breeze!
For over three decades, we've proudly stood as trusted leaders in Barry self-storage. Now, with our brand-new units, we're thrilled to extend our services to an even wider community, and we are deeply honoured that more and more people are choosing us for their storage needs.
Behind the scenes: Our talented service providers
Our latest expansion wouldn't have achieved such incredible success without
our talented service providers. A big thank you to:
Kuboid: Andy O'Dell (CEO) and John Holdom-Eyles (Project Manager) are the masterminds behind our main renovation. Connect with Kuboid on LinkedIn, Facebook, Instagram, Twitter, and YouTube
VOG Fire & Security Ltd: Andrew Nash, Matt Hobbs and Justin Farmer teamed up to provide security for the new units, installing 15 new door contractors to sound alarms for each unit, along with smoke detectors and a new camera for added safety
Dynamic Creative Group: The creative minds behind our striking new signage.
Barry self-storage: Act fast or miss out
Storage in Barry has never been better or more convenient than at Masons Self Storage. As we expand to meet the soaring demand, time is of the essence if you're searching for a storage unit. Don't miss out – act quickly to reserve your space today. For more information or a free quote, reach out to our friendly and helpful team at 0800 533 5708 or via email at info@masonsselfstorage.co.uk.