Masons Self Storage
All aspects of home and business storage covered
Masons Self Storage offers its home and business customers a unique, new Mobile Storage Service which comes directly to your door. With 3 options to choose from, and no need to hire a van, Masons have made Storage in the Vale of Glamorgan, in and around Cardiff, across to Bridgend and other parts of South Wales even easier.
Choose from our Storage Vaults, the Trailer Pick-up service or if you are looking for an economical way to move your personal or business goods into store then Masons' newest service, Mobile Move & Store, is for you. Take a look below at how each Mobile Storage Service works.
Masons Mobile Self Storage
Here is how it works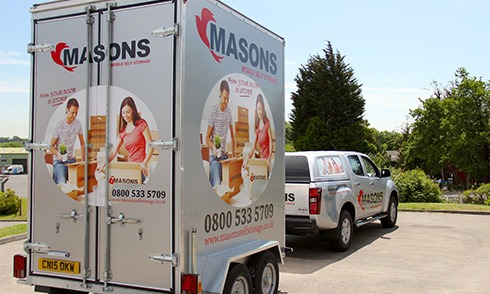 Step 1 – DROP OFF
There's no need to hire a van, we deliver your personal storage vault direct to your chosen location
Step 2 – LOAD UP
We'll leave your storage vault with you for you to load in your own time
Step 3 – WE PICK UP AND STORE
We will return to collect your storage vault and transport it to our self storage centre located only 10 minutes from Cardiff Bay, where it will remain safely stored until you need it.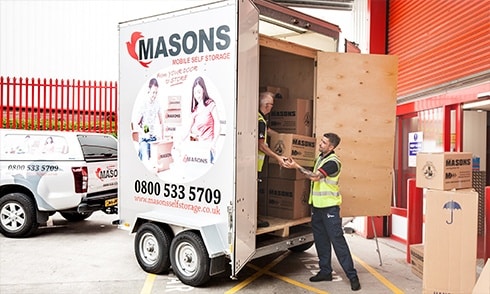 Step 1 – WE LOAD
Our Professional porter will bring the Storage Vault to your door and load it for you
Step 2 – WE STORE
We will take your Vault back to the Storage Centre
Step 3 – YOU RELAX
Masons will take care of your goods storing your Vault securely for you to access at a moments notice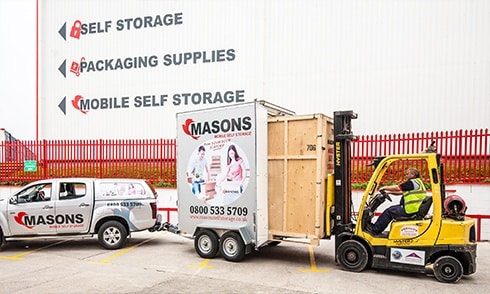 Step 1 – WE DELIVER
There's no need to hire a van with our trailer pick-up service we will bring the trailer directly to your chosen location
Step 2 – YOU LOAD
We leave the trailer for you to load in your own time
Step 3 – WE COLLECT AND YOU UNLOAD
We will collect the trailer and transport it to our self storage centre for you to unload into your self storage room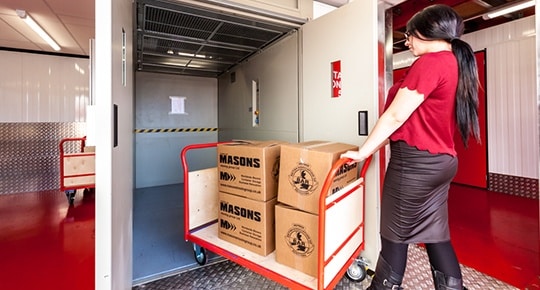 Masons Self Storage
Secure & Flexible Storage Solutions
The Masons Storage facility has recently been completely refurbished and is fully alarmed with 24hr CCTV well as modern ESCORTA lifts. You can access your Self Storage unit as often as you like with 24/7 access and access to your Storage Vault requires a small amount of advance warning to allow for the Vault to be brought to the door of the facility for you to access. Masons Self Storage also offer External Container Storage for tradesman and contractors and Insurance is available.
Masons Self Storage
Why Masons Mobile Storage
?
Direct to your door. No Need to hire a van
Choice & Flexibility: 3 hassle-free options
NEW Mobile Move & Store service
24 Hour Access, 365 days per year
Fully alarmed facility with 24hr CCTV
State of the Art, ESCORTA Lifts
Wide range of secure rooms from 25sqft to 1000sqft
OR your own personalized Storage Vault
Flexible storage periods
Insurance cover available
Masons Self Storage
Contact the Team at Masons Self Storage
.
With a range of different storage options to suit different requirements and budgets offering easy access in Cardiff and across South Wales, Masons Self Storage make storing in South Wales even easier than ever. Contact our dedicated team today and they will be able to help to answer any questions you may have.
Masons Self Storage
Moving Boxes & Packing Supplies
Whether you're moving home or office, having a clear out or just need more space, we've put together a great range of packing essentials to help you along. With everything from packing boxes to wardrobe boxes, bubble wrap to tape, and more, you'll find what you're looking for here online.