As some of you may know, as part of our ongoing support of community initiatives within the Vale of Glamorgan, here at Masons Self Storage, we have been supporting Barry Town Pan Disability Football Club since 2019. Most recently, we sponsored the team's wet tops for training as well as providing a donation towards their end of season celebration in July. The celebration will include a night of fun and recognition for a season of hard work!
Barry Town Pan Disability FC chose our state-of-the-art facility because it is conveniently located on the outskirts of Barry, Dinas Powys, Sully and just 10 minutes from Penarth. They use our facility to store the training equipment and football kit for their teams. Their coaches have the details to gain entry to their unit, which they visit weekly to collect any items they require for training on a Tuesday night and the festival they attend every month. Being able to access their unit 24/7, with no limits by opening times makes the difference to Barry Town Pan Disability FC and their coaches.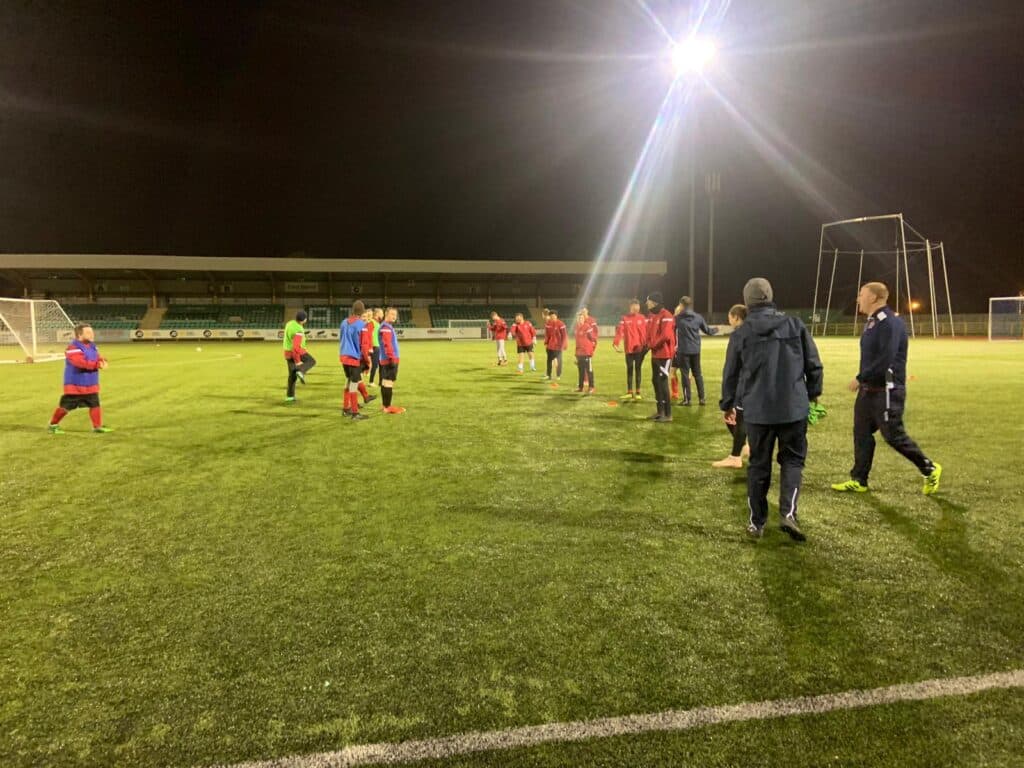 Neil and Pat Latham have been running Barry Town Pan Disability FC for over 15 years and in that time has become one of the most successful Pan Disability Football Clubs in South Wales. 'Pan Disability' means that their team members have differing impairments and physical abilities but play together regardless of their limitations in play. Their team comes from a diverse background across Cardiff and the Vale of Glamorgan. In addition, they work closely with the FAW Trust, who provide a lot of the coaching and first aid qualifications for the coaches at the club.
Festival of Football
Barry Town Pan Disability FC are currently organising a Festival of Football on 5 April at St Cyres School, Penarth. The festival will bring together all the different clubs in South and Mid-Wales, from across different ability levels and age groups from 8-adults. Barry Town Pan Disability FC are raising the money to host the event themselves and have been fundraising by packing shopping bags at local supermarkets as well as taking part in Barry Town Lottery; from every lottery ticket sold, Barry Town Pan Disability FC will receive a percentage of the sale amount as a donation to the festival.
If you'd like to support the event, you can buy a Barry Town Lottery ticket from the club house at Jenner Park from 4.30pm onwards, as well as at any of the football matches at Jenner Park!
The Festival of Football is open to all to come and watch, not only will there be a range of fantastic under-18's football talent on display but also there will be a raffle with a range of locally donated prizes to raise more money for the club. We know where we'll be on the 5 April!
If you would like to get involved with Barry Town Pan Disability FC, they are currently on the look-out for new players, they are open to all abilities and genders. They are particularly keen to build up their younger teams in the 10-14 years age group. In addition, they're looking for more support for their Festival of Football, so if you fancy refereeing a game, have some prizes to donate to the raffle or can send some fruit along for the teams refreshments on the day, get in touch with Neil Latham on 0782 334818 or email: nwlatham65@gmail.com.
Did you know that here at Masons Self Storage, we are a family business who have been in the storage & removals industry for 115 years? We're always looking for ways to get involved in our local community, from supporting Armed Forces charity, Woody's Lodge to sponsoring events such as Friends of Belle Vue's Music in the Park and the Penarth Christmas Festival to a huge fundraising effort for Cleft Lip and Palate Association last year, we're always looking for more ways to get involved with our local community here in the Vale.
At Masons Self Storage, we offer a personal and professional service with short term flexible contracts, storage units in a variety of sizes, 24/7 access 365 days a year. If you're looking for home or business self-storage, we can help with self-storage units starting from just £5 a week.