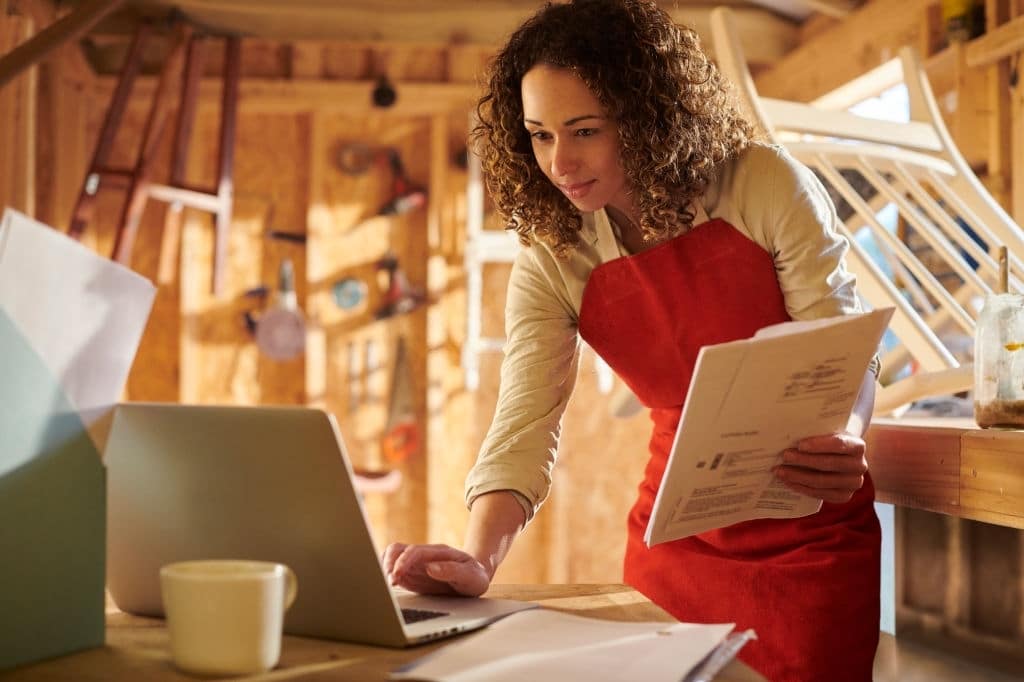 After the last year, we've all largely gotten used to being at home a lot. However, if you're finding yourself racing to claim the kitchen table to work in the mornings or have grown tired working on the sofa, have you considered creating your own home office in a shed in your garden? At first, it sounds like a lot of work, but thousands of people across the UK work from sheds in their gardens. Did you know that people working from their sheds has contributed an astounding £16.6 billion to the UK economy?
If you're ready to create your perfect workspace in the garden, we're here to help. Take a look at our top tips below to help you convert your shed into the perfect home office!
Choosing the perfect shed
Firstly, figure out what type of shed office you want. It may depend on the kind of work you do, as well as your budget. Think about how you will use the space, as well as what work-related requirements are necessities. For example, if you need to use a laptop or computer, then you'll need to make sure you have electricity and plugs available in your shed.
Before you get started, create a list of everything that you'll do in the shed when using it as an office. This will help you when choosing the perfect sized shed for your needs. If your garden is not big enough, then a garage might be more suitable for what's needed!
How to decide what you will need?
Next, you'll need to think about what furniture, storage and accessories that you'll need. Plus, will you need access to utilities like electricity and running water.
If you're an artist or designer, you'll want to sketch, draw or sculpt at a table. You'll also need plenty of natural light and a comfortable office chair with back support. Whereas, if you're using the office to write, you may not need ample desk space, but you'll still want a supportive chair as well as wall space for whiteboards or bookcases.
Perhaps you'll even want to avoid trekking to and from the house, so you'll want to kit your new office out with small appliances like a kettle and fridge!

Questions to ask yourself when planning your new office:
Will I need an open plan design?

Will I need storage space?

What kind of lighting does the office space require?

Will I need access to water?

Will I need WiFi?

Will the building require heating for the winter?
Converting your shed into an office
Now that you're ready to create your dream garden office, we have some top tips:
Treat the outside of your shed so it's weatherproof and won't be at risk of damp. This will also extend the lifespan of your shed.

Proper lighting will ensure that you can work in your office regardless of the time or season. Different types of lighting will perform better than others.

Heating will make sure your office is a pleasant place to be regardless of the time of year, it'll also help prevent dampness and keep paperwork from getting damaged. You don't have to opt for anything too permanent; you can even choose a portable electric radiator.

Insulate your shed. This will protect it from damp as well as using less energy to keep warm. Plus, it will also add some soundproofing to the building, perfect for those who like to listen to music whilst we work.

Most of us will need a laptop/computer, a phone and lighting at least to work comfortably, meaning that you'll need electricity. Make sure you ask a professional to carry out any electrical work for you!
Decorating your new home office
Use the walls to hang things like calendars, pictures, and inspirational quotes, plus you can also use the walls to display your current work or projects! Choose a desk and chair that will allow you to work on tasks that require more concentration. If you have space, you could always add an armchair too, for that thinking with coffee time! Don't forget about storage, whether you opt for shelves under window sills or small cabinets to go under your desk.
Add a rug to make your new office feel more like home. And don't forget the power of plants! They're not just for decoration; they can help clean indoor air pollution too. Research has shown that certain plants are particularly good at creating fresher air for us to breathe in. It's worth considering adding some greenery in there!
If space is limited or money tight, then try these smaller options:
use hooks for hanging things

use shelving under window sills with storage boxes inside them

choose foldable furniture – like a desk that can collapse/pop up as and when you need it.
No Garden? No Problem!
If you don't have a garden or the space to have a shed, but you're still in need of some space for your business or you're just fed up with working from home, have you thought about a serviced office? Our sister company, The Business Centre (Cardiff), offers modern serviced offices with flexible contracts and everything from super fast WiFi to an onsite gym included. Following all Covid-19 health and safety guidelines, The Business Centre is open for tours!
Does your business need some space? Did you know that here at Masons Self Storage, we offer Business Storage? In fact, we have an entire floor dedicated to our Business Customers, complete with wider corridors, and our Business Lounge is the perfect place to work on the go! Masons Self Storage is the ideal place to work, rest and store in the Vale.
If you'd like to come in for a tour, give our friendly team a call on 0800 533 5708!