De-cluttering and helping our customers find more space in their homes is a passion of ours here at Masons Self Storage, in fact, we've written a lot about Marie Kondo and top tips to de-cluttering at home. So, we were delighted when our friends at Penarth View got in touch to ask about the top tips that we've picked up whilst supporting our customers with their home renovation projects!
We can't be alone in our spring-cleaning delight, since decluttering expert Marie Kondo's bestseller The Life Changing Magic of Tidying Up shot her to fame. Plus, online, there has been the rise of clean-fluencers such as Mrs Hinch, who currently has over 3 million Instagram followers. Mrs Hinch and her followers, aka #HinchArmy, are all about keeping our homes organised and squeaky clean. So, it looks like we're all looking for a bit of order at home!
Here's how to declutter FAST:
Self-storage is the perfect stopgap for any home projects that need a bit of space. Over the years, we've picked up some excellent tips and even created our own acronym for finding some more space at home: F.A.S.T!
Fix a time in which you're going to tackle the clutter, and stick to it.
Anything not used in 12 months has to go. We have to be honest with ourselves, those trousers that we've had for years— hoping that one day they'd fit again—it's time for them to nd a new home.
Someone else's stuff. Masons told us this was one of the big reasons some of their customers take out self-storage. Often their children are away at university or travelling, and they'd like to use their child's old bedroom but don't want to throw away their possessions.
Trash. After sorting through your belongings, you may have two piles. One for the bin (or to donate) and another of things that you don't need in your home but you're not ready to part with.
The latter is where lots of customers turn to us here at Masons. With flexible contracts starting from just £5 a week and our state-of-the-art facility that's accessible 24/7, we offer the perfect solution by helping you declutter at home whilst not having to completely part with those items you're unsure on! Plus, our brand new self-storage calculator makes it even easier choose the perfect storage unit to suit you, taking the guesswork out of your quote!
To make storing with us even easier, our sturdy range of professional packaging supplies such as moving boxes and bubble wrap can be delivered direct to your home. It's important that your items are packaged in high quality boxes to keep them protected in storage.
If you're not sure whether you're really utilising your belongings, why not try the cardboard box test? Fill a strong cardboard box with the contents of a drawer or cupboard. Every time you need an item, take it out and put it back in its original home. Everything left in the box at the end of the month probably isn't needed and can be donated, recycled or put in the bin.
Find us in the Spring edition of the Penarth View which is out now!
Did you know that we're also home to the Cardiff franchise of Simply Shredding?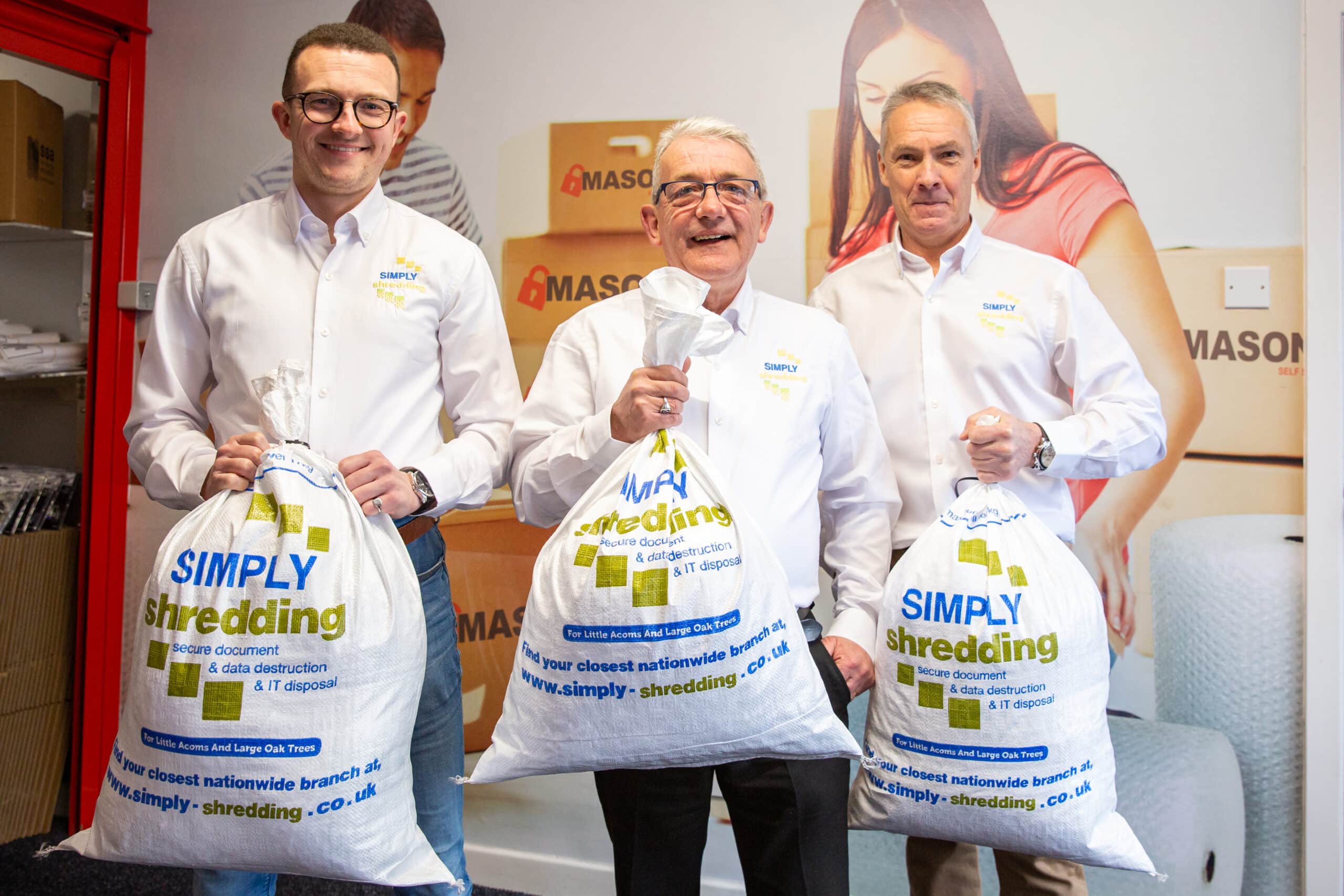 Back in February 2019, here at Masons Self Storage, we expanded the range of services that we offer here in the Vale of Glamorgan and became the Cardiff franchise of Simply Shredding. It has been a huge success, offering our local businesses a secure and local option for securely shredding their confidential documents. Not only are we conveniently located just 10 minutes from Cardiff Bay, Penarth, and Dinas Powys, but our domestic shredding services also offer an efficient service that is smooth and effortless, and it all takes place from your own front door!
So, if you have a lot of documents or archives at home that you've been storing because you're unsure of how to confidentially dispose of them, our Simply Shredding service offers a door-to-door confidential shredding service. We will provide you with a certificate for peace of mind that your documents have been securely shredded and recycled!
If you're looking for a bit more space at home, why not pop into Masons Self Storage or take a tour of our centre online? Based just ten minutes from Cardiff Bay and Penarth, we offer a flexible solution to self-storage. Our rolling contracts begin from just £5 a week and we have a range of storage units in different sizes! To find out more, get in touch with our team on: 0800 533 5708 or email us on: info@masonsselfstorage.co.uk