Whether you're trying to get organised and de-clutter the house, downsizing and need a space to store your belongings until you can work through it or renovating your home, we can all be guilty of a little procrastination when it comes to packing!
However, we're here at Masons Self Storage to help! Take a look below where we've compiled a top ten list of packing tips to help inspire you to get going with your packing and tackle it little by little…
Pack early
The more time you leave yourself, the less stressful the whole process will be. The sooner you start, the sooner you'll be finished!
2. Roll & vacuum pack your clothes
If you're going to be putting clothes in storage, save yourself the hassle of having to iron them before and after you put them in storage. To save space and stop creasing, tightly roll your clothes instead of folding them and then place them in vacuum compression bags. This will give you lots more space and will prevent creasing!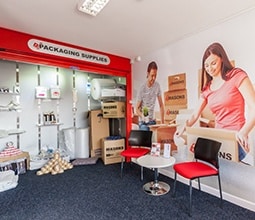 3. Prepare your packing materials
Ensuring you have enough boxes and packing materials for the move will help you maintain momentum. Getting halfway through a room and running out of packing materials leads to procrastination and putting off the job for another day. You can buy strong and sturdy boxes, along with great value packing materials from Masons Self Storage, find out more here.
4. Label your boxes
It's easy to believe that you'll remember what you put where, but once you're faced with 10 identical cardboard boxes, things are bound to get confusing. So stay organised before, after and during your move by keeping a permanent marker on hand to label your boxes.
5. Pack away bits & bobs
Save space in your unit by keeping organised and packing away bits and bobs into boxes and containers, this allows you to maximise the amount of space in your storage unit!
6. Store your heaviest boxes at the bottom
Store your belongings safely and securely by keeping your heaviest boxes at the bottom of the pile in your storage unit. For example, boxes filled with books will create a sturdy base in which to stack on top of, keeping your belongings safe.
7. Focus on one room at a time
It's easy to take a box into a room and start packing items randomly, don't do this! Instead, stay organised and focus on one room at a time, this will make the process a lot more stress-free and more efficient.
8. Keep your valuables safe
If you're packing for a move, make sure you know where your important documents are and keep them together with a box labelled clearly. Wrap any fragile items securely in bubble wrap and newspaper to stop them getting damaged.
9. Insure your belongings
Make sure you have contents insurance that covers the move and also your storage unit. It would be awful if anything was to get broken in the move and then on top of the moving costs you have to replace a broken prized possession. Luckily, insurance is available for all of our storage units at Masons Self Storage, so you're always safe and sound with us.
10. Protect your upholstery
If you're putting furniture into storage, make sure you adequately wrap it in protective wrap as well as not storing anything heavy or sharp on top of it which could damage your sofa!
Hopefully our top ten packing tips have helped inspire you to start your packing project! Remember, we're here for you, no matter how large or small your storage requirements are. We have a recently refurbished storage facility offering a state-of-the-art storage experience which is available for you to access 24 hours a day, 365 days a year. We also offer a unique new, hassle-free Mobile Storage service with three options to choose from. With a range of units from 25sqft to 1000sqft, we're based only 10 minutes from Cardiff Bay and our secure storage units start from just £5 a week!
Call one of our expert team members free on 0800 533 5708, or pop in, for your personalised quote tailored to suit your needs.