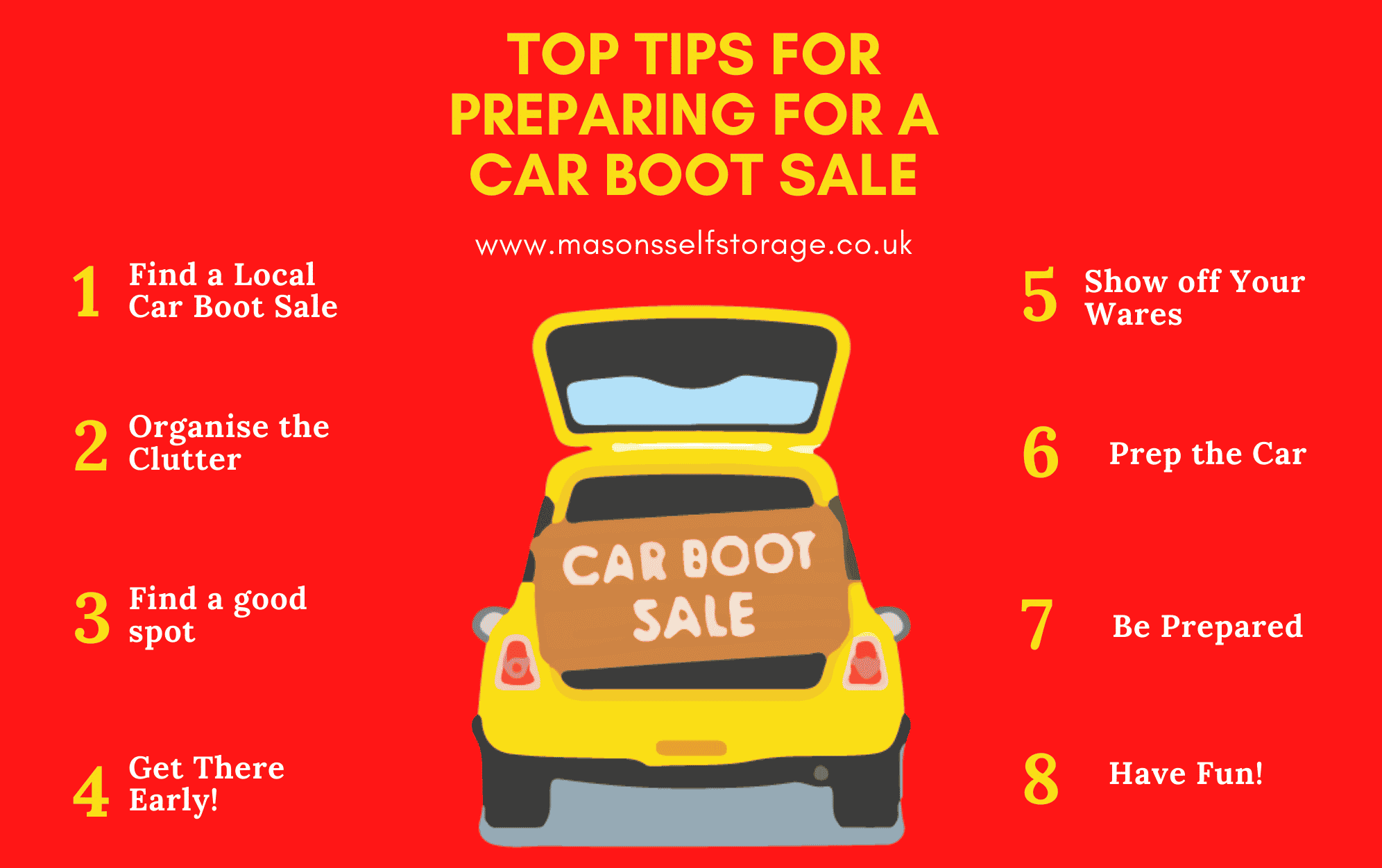 At Masons Self Storage, it's no secret that we're big fans of Marie Kondo and keeping our lives clear of clutter! In fact, the Penarth View even recently featured our top tips for decluttering FAST!
In lockdown, we've all had a bit more time for having a sort out and finding some more order at home! But now what do you do with the things that you no longer want? There are a few options: you could donate to charity, you could list the items on an online marketplace like eBay or if you could attend a local Car Boot sale!
Although they've declined in popularity a bit over the last ten years, as thrift shopping and people move towards buying second hand for the environment, the trusty car boot sale is making a comeback!
As lockdown measures ease, there are many local Car Boot sales that are starting to re-open again and the summer is the perfect time to clear the clutter and flog your wares!
Top Tips for Preparing for a Car Boot Sale
The thought of running your own car boot stall can be daunting if you've not done it before, but a few of us here at Masons Self Storage are seasoned car boot sales-ers and we've put together some of our top tips to ensure you get the most out of your day!
1. Find a Local Car Boot Sale
A site like Car Boot Junction can help you find out when your next local car boot sale will be on. Bear in mind that lots of things are only just starting to go back to normal, so some might not be running as usual or have adjusted timetables.
2. Organise the Clutter
Once you've worked through your decluttering and have decided what's for charity, for sale and the bin, it'll help you to work out what you'd like to take with you. The most sought-after items at car boot generally are:
Toys – package them up in plastic bags with all of their pieces so that they are easy to take home

Soft animals – especially if they are like new or even with tags

Baby clothes and equipment

Costume jewellery

Technology – you'll almost always have someone asking if you're selling phones and games consoles

Homeware such as small ornaments usually sell pretty well as opposed to bulkier items that are difficult to carry home
3. Find a good spot
If you can, visit the car boot sale in advance and see if you can work out where is a good pitch. Generally, anywhere near food and the entrance/exit are good for footfall!
4. Get There Early!
Make sure you get there early on the day to secure the best pitch that you've scoped out, you can usually turn up a few hours before opening to set up. Make sure you give yourself enough time, there's often a queue of people waiting to get in and take the best spots. If you can book advance, it will save any worry of being turned away on the day!
5. Show off Your Wares
You want to make your items look as appealing as possible, so use anything that you can to help you show off your items, such as a rail for displaying any clothes or a collapsible table. If you're selling clothes or jewellery, a large mirror will also be helpful!
6. Prep the Car
Make sure you've got any items that you're going to use for display in an easily accessible space so that you can set up quickly. This way you'll be able to take advantage of the first stream of customers, instead of scrambling to get your stall ready! The most amount of sales take place within the first hour, so don't miss this by being too busy setting up!
7. Be Prepared
Most people will want to pay with cash, so make sure you have a float of between £20-25 to ensure you have enough change for the day. Plus, those carrier bags that have been sat in a cupboard for years, it's their time to shine!
Unfortunately, we can't be sure of a sunny day, even in summer! So, make sure you and your wares are protected in case of rain or bad weather.
8. Have Fun!
Try to make a day out of it, whether you bring a friend to help the time pass or you make friends with a neighbour, a warm smile will make your stall more appealing and the day won't drag as much in the quieter times!
Car Boot Fairs in Cardiff and Vale of Glamorgan
Now you're ready to take on a car boot sale, here are some of our favourite car boot fairs in Cardiff and the Vale! We've checked to see whether or not these are all running as we come out of lockdown, but make sure you double check nearer the time.
Leckwith, Cardiff
The car boot sale in Bessemer Road, Leckwith is open every weekend and Bank Holiday Mondays.
More info: Bessemer Road Car Boot Sale's Facebook page
When: Saturdays, Sundays & Bank Holiday Mondays: 9am – 2pm
Price for sellers: Cars and small vans from £15
Splott Market, Cardiff
Splott Market, on Titan Road in Cardiff, holds car boot sales twice a week, as well as a local market on Sunday. It runs a turn up and trade policy, meaning you can sell whenever you wish but they advise early arrival to avoid disappointment.
More info: Splott Market Facebook Page
When: Thursdays and Saturdays, 9am-1pm.
Price for sellers: from £7 per pitch.
Sully Sports Club
Located in Penarth, this boot sale is every Sunday at the sports club on South Road, Sully and will continue until the first Sunday in September.
More info: Sully Sports Club Website
When: Every Sunday (from April 28 until first Sunday of September), 7.30am – 2pm.
Price for sellers: £9 for a car, £18 for a van and £27 for large vehicles.
Barry Island Pleasure Park
Held at Barry Island, this car boot sale is a weekly affair that runs all year round!
When: Every Sunday from 8am.
Price for sellers: Call 01446 678 616 for details such as cost and booking.
Porthkerry, Vale of Glamorgan
An unusual car boot sale, Porthkerry's is in the afternoon! They haven't yet re-opened after lockdown measures but keep an eye on their Facebook page for updates.
More info: Porthkerry Car Boot Sale Facebook Page
When: Every Sunday (weather depending), 1pm start.
Price for sellers: From £5 per car, £6 per van.
Bridgend
This indoor car boot sale is held in Cheapside multi-storey car park, off Brackla Street. Although they haven't yet re-opened after lockdown, so keep an eye on their Facebook page.
More info: Bridgend Festival Car Boot Sale Facebook Page
When: Every Sunday from 7am.
Price for sellers: From £7 for a single space, £14 for a double
If you're not yet ready to part with your belongings permanently or you're looking to clear some space before your local car boot sale has re-opened, have you thought about self-storage? With 24/7 accessibility and storage units starting at just £5 a week, Masons can help you clear some space at home! So, why not give our friendly team a call on 0800 533 5708?
Here at Masons Self Storage, you can be sure that we are strictly following the government's guidelines for social distancing and increased cleaning of communal areas, so if you would like to access your storage unit, we are open for you to visit.