We don't know about you, but every time we do our food shops, we buy lots of canned goods! Canned food is great, inexpensive and staples that can sit in the cupboard for months, from baked beans to chopped tomatoes, our cupboards are filled with cans!
Here at Masons Self Storage, we've been having a think about what we can do with some of our household waste to try and minimise our impact, as well as have fun upcycling projects to tackle! So, watch out for our new blog series around upcycling projects, kicking off with ways to upcycle and re-use cans! Below we've listed our three favourite ways to upcycle the humble tin can!
All of these projects require some tools and should never be left for children to do without supervision.
Our Favourite Upcycling Projects with Cans
Copper Can Planters with Chalkboard Tags!
We absolutely love this idea from Home Oh My! Create your very own gorgeous-looking planters for herbs or any plants you fancy!
What You'll need:
Tin cans

Spray paint in a colour of your choice

Thin MDF wood to make tags (or cardboard etc)

Craft knife or scissors

Twine
Method
Clean out your tin cans and leave to dry. You can remove any adhesive that doesn't come off with a mixture of olive oil and baking soda.

Spray paint your cans – we recommend three or four coats

Home Oh My made their tags out of a very thin MDF that you can get in craft shops and then painted it with chalkboard paint, but you can also just use sheets of cardboard or you could even buy little chalkboard signs! You want the signs to be about 3 inches x 3 inches.

Using twine or string, tie the signs to the cans

Voila! Plant whatever you'd like in your new can planters, we think these would look really nice on a kitchen windowsill or shelf.
Wedding or Table Centre Pieces
Whether you're looking to do a bit of DIY for your wedding or you're looking for a bit of inspiration for the table for a big family dinner (or Christmas!), these burlap wrapped centre pieces created from cans by Red Chandelier are lovely! Plus, they couldn't be easier!
What You'll Need:
Tin cans

Burlap or any material

Scissors

Glue gun, PVA or double-sided tape

Lace, buttons, twine etc
Method:
Make sure your tin cans are clean and dry. Remove any adhesive that doesn't come off with a homemade mixture of olive oil and baking soda!

You can get burlap from any craft or DIY shop, simply cut to the right size to cover the can.

Attach using a glue gun, PVA glue or you could even use double-sided tape

Decorate any way you like! We think the way Red Chandelier has is so lovely, using scraps of lace and vintage-style buttons and would work perfectly if you were going for a 'shabby chic' theme.
Create a Garden Wall
Whether you have a very small garden or no garden at all and you're looking for a bit
more greenery in your life, create yourself a garden wall using some old cans and a bit of paint!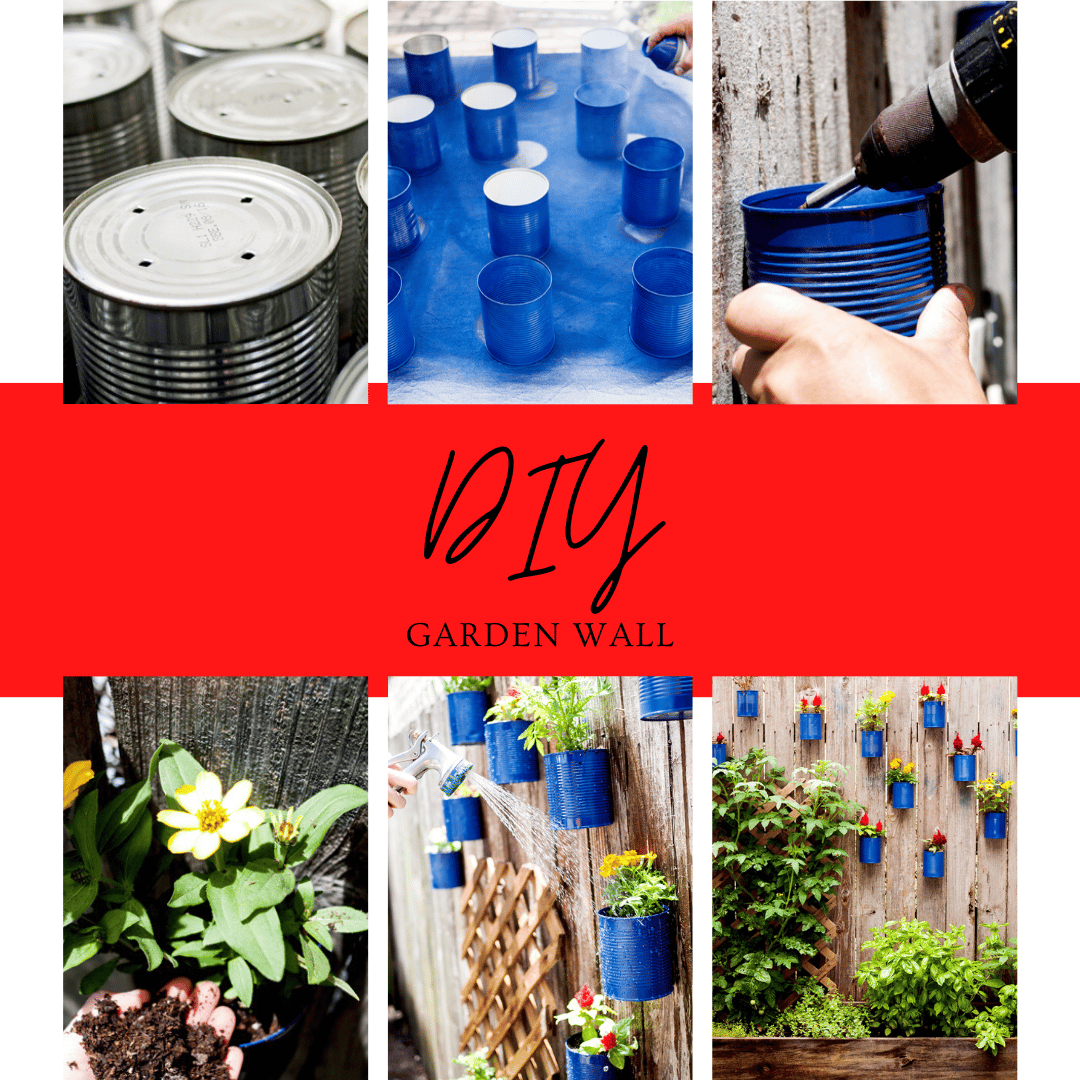 What You'll Need:
Tin cans

Spray paint

Drill with small attachment

Screws for attaching to a wall/fence
Method:
Clean and dry your cans. Remove any adhesive that doesn't come off with a homemade mixture of olive oil and baking soda!

Spray paint the cans in any colour you like, either all one colour or several!

Drill four small holes into the bottom of the cans for drainage

Using screws, attach the cans to your fence or wall

Fill the cans halfway with soil and plant flowers and plants of your choice

Water your new plants!
If you undertake any of these upcycling projects, please send us photos either on our Facebook page or drop us an email: info@masonsselfstorage.co.uk. We'd love to see anything you make! If you're ready to tackle a few bigger projects around the house, take a look at our 5 favourite home renovation projects here.
If you need a bit more space at home to take on some DIY or to make some improvements at home, why not see how Masons Self Storage could help you? Find out how we're supporting our customers during the COVID-19 pandemic here.
With flexible contracts starting from just £5 a week and no need to wait for opening times with 24/7 access, 365 days a year, we could help you make some space at home. Why not give our friendly team a call on 0800 533 5708?