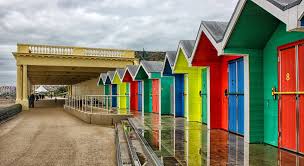 Other than our short heatwave in July, summer seems to be a bit delayed! August has been a lot rainier than we'd really want and looking at the weather forecast, it's looking likely that grey rain clouds will be sticking around for a little while longer.
However, we're not going to let that ruin our Bank Holiday plans! There's so much going on in Penarth and the wider Vale of Glamorgan that we're determined to enjoy the best that our local community has to offer, even if it does mean that we have to embrace a rain jacket and wellies!
Here's a list of our favourite events happening in the Vale of Glamorgan on the long weekend, come rain or shine! Plus, we've added a few special events or activities that are happening a little further afield in Wales!
Friday 23 August
Kick off the Bank Holiday weekend with a trip to the cabaret! Mary Bijou Cabaret will delight with breath-taking circus acts, toe-tapping music and fantastic costumes as part of the Penarth Pavilion's Pride Cymru.
Celebrate Pride Cymru in Cardiff all weekend, there will be four stages, a mile-long parade, street food, cabaret, funfair rides and so much more! Plus expect appearances from Gok Wan and Texas, headlining the event!
Head to Cardiff Bay for the return of Roald Dahl Plass this summer! Hurry though, it's only around for another few weeks! The beach features a child-friendly sandy beach, a shallow water play area, a variety of rides and games, a giant wheel with views across the bay, free live entertainment, great food and drink, and traditional deck chairs for visitors to chill out in the (hopefully!) summer sun
If the weather isn't too wet, there's some amazing cycling routes here in the Vale! Perfect for all levels from beginner to confident cyclist, take a look at our blog on Cycling in the Vale for some inspiration!
Saturday 24 August
Head to Barry for a night of open-air cinema at Barry Island Gardens! Completely free, the film showing will begin at 8.30pm but head down early with a chair or blanket and a picnic for a good spot!
There's still time to take part in the Yellow Welly Treasure Hunt, but hurry, it's finishing on 31 August!
Take part in the Superhero Trail at Amelia Trust Farm! Take your young superheroes to learn valuable lessons about the world around us and what Earth's toughest enemies are i.e. plastic, poaching and climate change and what they can do to help save the planet!
If you missed Swansea Air Show recently, or just love air shows, head to North Wales to Rhyl for the Rhyl Air Show on Saturday & Sunday! The event is free and expected to welcome thousands of people with more than 20 displays taking place across the two afternoons!
Head to Margam Country Park, Port Talbot for the Margam Model Boat Show! Running from Saturday to Monday, there will be Model boats of all shapes and sizes on show!
Sunday 25 August
Snowcat Cinema presents National Lottery Cinema Day! Swap your lottery ticket from Saturday 24thAugust Lotto Double Prize Event Draw for a free ticket to see 1989 classic: Bill & Ted's Excellent Adventure.
A second night of open-air cinema at Barry Island Gardens continues! The film showing will begin at 8.30pm and is free but make sure you head down early with a blanket and a picnic for a good spot!
Head down to Llanelli for an alfresco showing of Bohemian Rhapsody! Before the film starts, there'll be plenty going on, including food, snacks, a bar and music!
Cardiff Bay is now home to giant mythical Lego creatures, including a unicorn, an 11ft fire-breathing dragon, a wizard, a princess and a knight! BRICKLIVE Fantasy Kingdom has opened at Mermaid Quay. Entry is free and you can view nine models which have been made from a total of almost 750,000 Lego bricks and took over 2,000 hours to put together!
Monday 26 August
Rise and shine with the opportunity to grab a bargain at Sully Sports Boot Sale from 7.30am!
Head to Chepstow Race Course for the Big Family Race Day! Meet giant dinosaurs and enjoy free fun fair rides. As well as the seven horse races, there will be plenty of entertainment, including giant dinosaurs on show, in the Jurassic Marquee (which will also feature giant dinosaur eggs, jungle plants, dinosaur bones, hatching dinosaur eggs and ranger training), bungee trampolines, mini p and a monster truck ride as well as a dance zone!
Head to the National Museum Cardiff and discover the secret life of slithering snakes! Fun for all the family, the Snakes exhibitionincludes a boa constrictor and a royal python, plus you can learn all about the importance of conservation and discover what life is like in countries where encounters with deadly snakes are a daily possibility!
Bank Holiday Monday is your last chance to take in the wonderful Balloon Art Fiesta at The Red Dragon Centre! Created by balloon artist Doctor Bob Balloons Unlimited, the balloon sculptures create an amazing, colourful display!
Of course, a long weekend is also the perfect opportunity to tackle that decluttering project or home improvement project that you've been putting off! We personally love Marie Kondo and her approach to decluttering! We have fantastic flexible options here at Masons Self Storage as well as 24/7, 365 access to our state-of-the-art self-storage facility. Why not pop in for a tour and see how we can help?
What are you getting up to this August Bank Holiday weekend? If you're out and about in the Vale, let us know! Plus, if you're attending an event or activity that you think that we should know about, let us know on social media or email us at info@masonsselsfstorage.co.uk