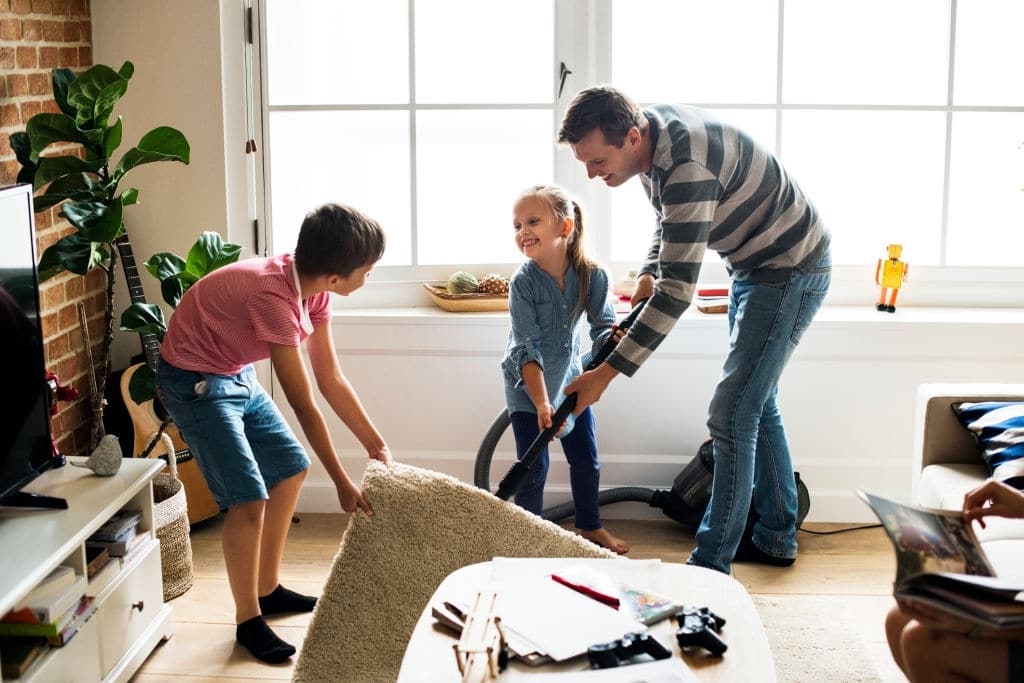 Teaching children how to do chores and incorporating it into their everyday lives is an important part of parenting. Whether it's doing laundry, putting their toys away, or cleaning the dishes, children need to understand what goes into keeping a home tidy and uncluttered. But if you're struggling to get your children excited about chores and decluttering, then you wouldn't be the first!
Here at Masons Self Storage, we've asked around the team for their top tips for getting children excited and involved in cleaning and decluttering.
Assign certain chores and tasks to them
To get the kids involved in decluttering at home, it's important to start from a young age.
Give them tasks that they can do around the house, such as folding laundry, putting away dishes, and picking up clutter. This is a great way of getting the kids involved in decluttering while simultaneously teaching them to do things for themselves.
Reward them for helping
Offer incentives like stickers, small prizes from the pound shop, or extra screen time if they complete certain tasks. This is also a great way to reward those who participate regularly and take on chores without being asked.
Different children will have different preferences, so it's best to keep trying until you find what works for them. It may take a while but, in the meantime, teach them how to declutter with consistency and patience!
Clear the clutter together
Get the kids involved with decluttering in ways that appeal to them. So maybe one afternoon, have a mini fashion show to see what clothes still fits and what they don't like anymore. Similarly, go through their toys to see what they still play with and what they'd like to donate to charity.
Plus, if you want them to take more responsibility for their room, help them to decide where certain toys live.
Make it fun!
Most importantly, make it fun! Why not play fun and lively music while you clean and de-clutter together so that everyone wants to join in on the action?
Make it a competition
And for the children that love to compete, or like to have an edge against a sibling, make it a competition! Turn it into a game by using a stopwatch to challenge them to tidy as much as they can within a short period of time (for example, around 5 minutes). This is a great way to have them quickly clean up their individual bedrooms before bedtime. Whatever you decide, make sure it is something engaging and that you know will get their little feet going!
Ultimately, the best way to get kids involved with decluttering is by making it a group effort and showing them that chores don't have to be boring. With a little creativity, they can quickly become something that your kids look forward to every week… ok, maybe not look forward to but happily participate in – and that's all we can ask for, right?
If you're looking for some top tips for clearing the clutter at home, take a look at our top tips for finding more joy in your life – our Marie Kondo inspired list!
If you've got the kids involved in clearing through clutter but you're not quite ready to throw it all out, have you considered self-storage? In fact, many people turn to us here at Masons Self Storage whilst undertaking decluttering and home projects, taking advantage of our flexible storage solutions and 24 hours a day, 365 days a year accessibility for storing their clutter whilst they work out what to do with it!
Contact our team by email: info@masonsselfstorage.co.uk or call: 0800 533 5708 to see how we can help with your next decluttering project.