As a business owner, you're probably familiar with needing more space than you have! This becomes a problem when you operate in a city like Cardiff, where square footage is available at a premium cost. This leads to tricky business decisions: do you scale down to fit the space that you can afford, or do you try to find the money to expand?
Thankfully, there is another option: self-storage! Did you know that self-storage can be a saviour for small business owners? In fact, recent research from the Self-Storage Association found that 70% of the enterprises that use them have less than ten employees.
If your business is looking for some more space, read on to find out more about the top benefits that self-storage can offer your business!
Flexible growth
Many small businesses operate on tight margins which means they can't be as flexible and lose opportunities for growth. For example, imagine that you found a fantastic deal on materials that would improve your long-term growth as a business, but you had nowhere safe to store the materials?
Situations like this are where self-storage shines, units are offered on flexible contracts, and you can scale up and down the unit size as you need to. You can even rent a unit weekly!
Business archiving
If your business deals with high volumes of paper documents or is in a professional industry required to keep records for a set period, you need somewhere safe and secure to store them. Most importantly, if the documents hold sensitive information, your storage space needs to be secure to meet your legal obligations.
Again, self-storage is the perfect solution! It's easy to fit an archiving system, the units will be humidity-controlled as well as incredibly secure.
Collection & Delivery Service
If you run your business via an online marketplace, it's likely parcels will be coming and going all the time – and you can't be around to receive them 24 hours a day. There's a great solution: self-storage. Here at Masons, you just need to let us know the delivery time in advance and then there'll always be someone here to take your parcel and store it for you!
We also sell a great range of packaging, including bubble wrap and cardboard boxes, we're a one-stop shop for online sellers!
Dedicated Business Zone
Did you know that here at Masons Self Storage that the entire ground floor of our modern self-storage facility is entirely dedicated to business storage? With wider corridors and a dedicated Business Lounge, Masons is the perfect place to work, rest and store in the Vale.
Seasonal stock
Is your warehouse, office, or home garage overflowing with Christmas decorations, Halloween toys or sun cream? While we can't help you sell your seasonal stock, we can give you somewhere secure to store it until the season rolls around again!
Storing valuables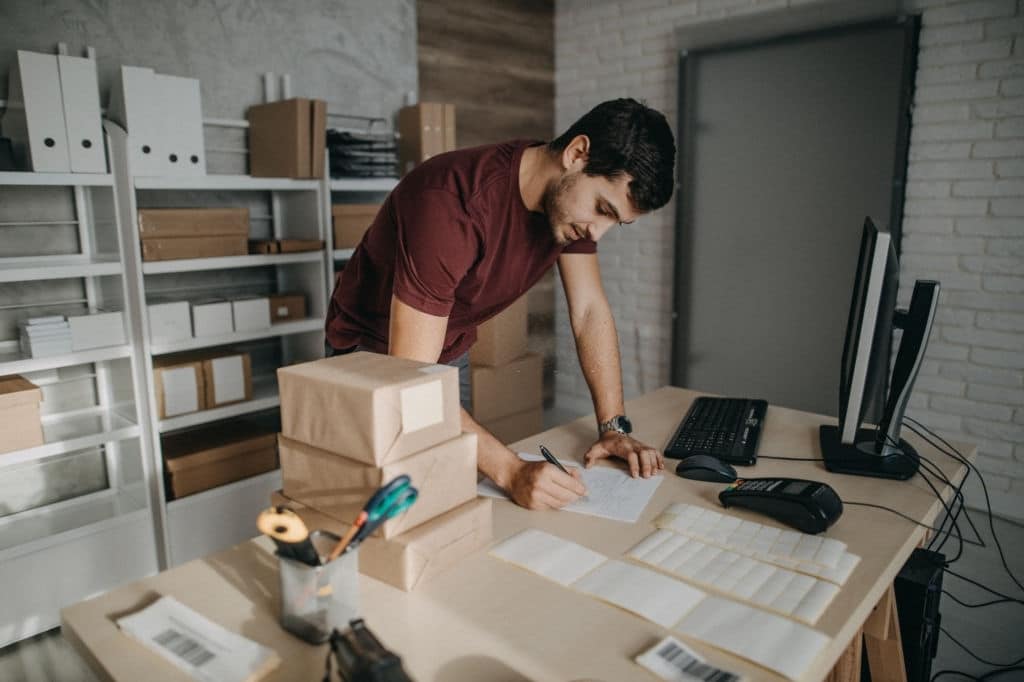 If your business has expensive physical assets, storing them on-site can be a risk, as well as an expense because many small businesses will struggle to achieve anything like the levels of protection and insurance, we provide at Masons Self Storage! Any valuables stored with us will need to be adequately insured, but we can arrange a policy with highly competitive rates that reflect the level of protection we offer!
24/7 CCTV, alarms and PIN codes are just some of the security features we offer with our units – not to mention a sturdy, locked metal door that only you have access to.
No business rates or council tax increases
Although you can treat your storage space at Masons Self Storage like an extension of your premises, it's not liable to any increases in business rates or council tax! This makes your accounting straightforward, and it means more of your money goes into your business!
Space to renovate
If your office needs renovating, from a new lick of paint or a total rejig of the kitchen, then you'll need somewhere safe to put your goods and equipment while the works are being carried out! You can get on with renovating your office or workspace, knowing that all your furnishings and assets will be safely protected until you need them again.
We offer business storage with flexible contracts with 24/7 access 365 days a year at Masons Self Storage. If you're looking for home or business self-storage, we can help with self-storage units starting from just £5 a week. If you'd like to come in for a tour, give our friendly team a call on 0800 533 5708!