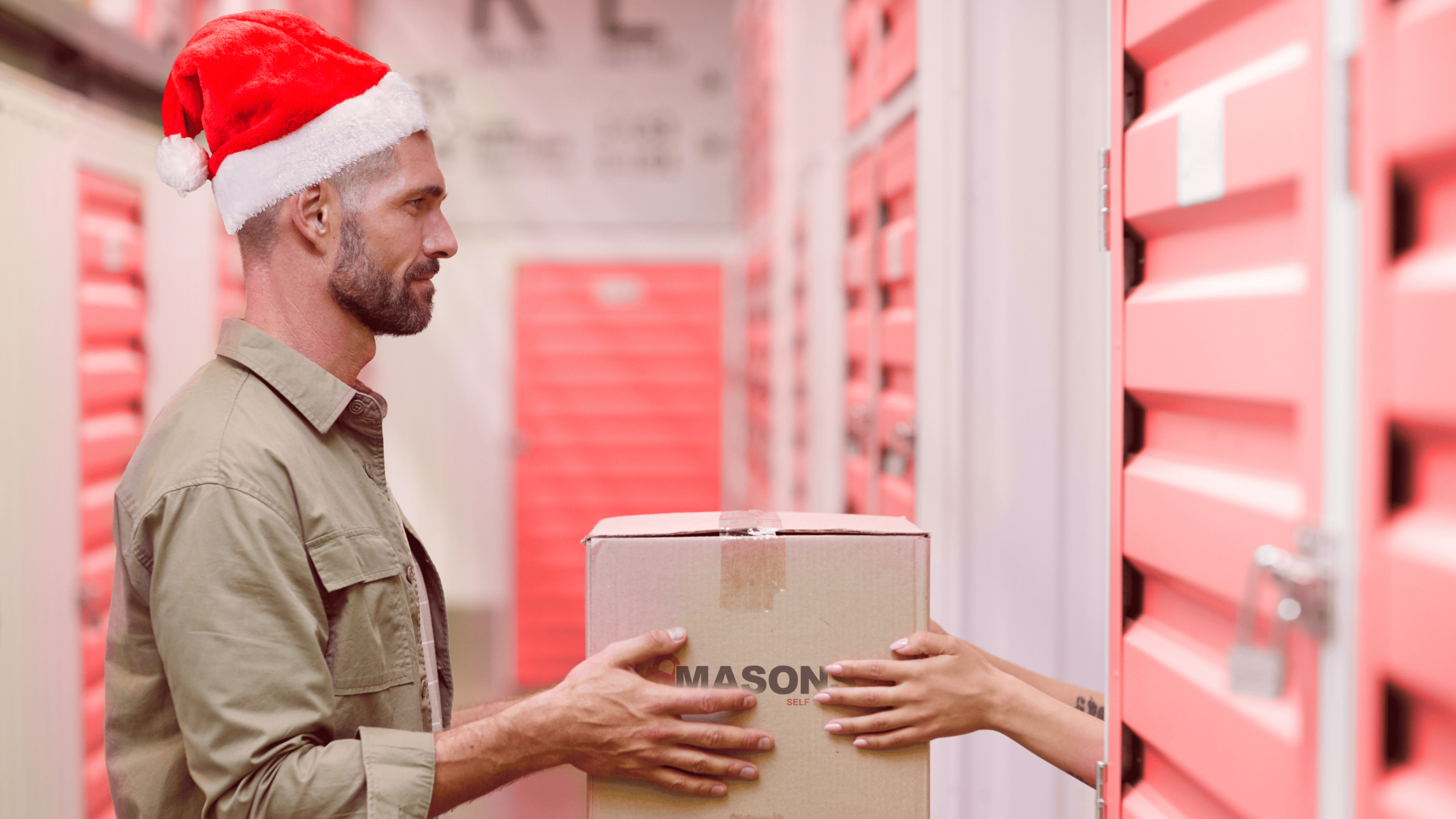 The most beautiful time of the year is finally here! Snow painted pavements shimmering white, glorious ornate Christmas trees peeking through frosty windows, and family and friends coming together to celebrate the festivities.
But not to burst the bauble, is your home ready to welcome Christmas and New Year's celebrations with wide open arms? Or is it bursting at the seams with presents, decorations, wrapping paper, and that big beautiful tree?
Turn Christmas Clutter Into Christmas Cheer
If space-related problems have you feeling the Christmas clutter instead of the cheer, don't fret! It's not too late to get your home "festive season ready" with safe, secure, and affordable self storage at Christmas.
Without further ado, these are our top 5 reasons you need to be using self-storage in Bary units at Christmas:
More Space Instantly
How would you describe the state of your home right now? If words like messy, cramped, and overwhelming come up, we've got bad news for you – you've got the festive season fever and not in a good way. We get it – creating space for seasonal decor and presents means you have less floor space to manoeuvre and this gives your home an untidy look. With self storage at Christmas you can quickly free up space and seamlessly rehome less used furniture, like extra side tables, ottomans, bookcases, etc. And just like that, you're no longer tripping over things!
Keeps Your Gifts Safe As Burglaries Spike
We're sorry to dampen the holiday spirit with this one. It's no secret this period sees a spike in crime, especially house burglaries, as criminals know many people are away from home on holiday or regularly out late-night shopping, visiting loved ones, and partying. Plus, there's the added appeal of valuable gifts hiding around. This is where self storage at Christmas becomes essential for many people. During this hot crime time, all your valuables will be tucked away safely in storage, away from prying eyes.
Acts As A Back-Up Spare Room
If you have a spare room in your home, you've probably never considered self storage. But if the festive season means loved ones are staying over, then your spare room may become their temporary bedroom. If this is the case, self storage can come to your rescue, allowing you to conveniently transfer all your items from the spare room to a storage unit that suits your size requirements.
A Private Spot For Gift Wrapping & Storing
Hiding presents from your loved ones in the build-up to Christmas can be an extreme sport, especially if the kids decide to go gift hunting. But the biggest struggle is wrapping up these surprises. Imagine if you had your own little private space to do all the wrapping without a single soul walking in and ruining the surprise. A self storage unit gives you this freedom. Plus, after wrapping, you can keep the gifts here until they're ready to be placed under the tree.
Your Small Business Can Stock Up
If you own a small retail business or an online store, we know how crucial it is to buy extra stock to make the most of the Christmas rush and January sales. Don't let a lack of space keep you from capitalising on the moment. With a self storage unit, you will have your own designated space to store all your surplus stock and more.
Storage Units Too Convenient To Cancel
You may be thinking that since the festive season is over in a flash, you could rough it out in a cramped space for a few weeks instead of committing to a contract with a self storage provider. But, if you choose a provider like Masons Self Storage, you have the flexibility of signing up for short-term self storage in Barry that you can easily end after the festivities are over. However, like most of our clients, you may find it's too convenient to cancel, especially if you need the extra space to store all your Christmas decorations once January rolls around.
It's amazing what a little extra space can do, especially over the festive season!
Besides unmatched flexibility, Masons Self Storage offers:
If you're looking for self storage in Barry, Penarth, or just about anywhere else across the Vale of Glamorgan, you've found the leading, most trusted name in the industry. At Masons Self Storage, we have over 3 decades providing South Wales with affordable, secure, and accessible storage units.
Are you thinking about using self-storage units at Christmas? If so, email our team at: info@masonsselfstorage.co.uk or give us a call on 0800 533 5708 for more info.