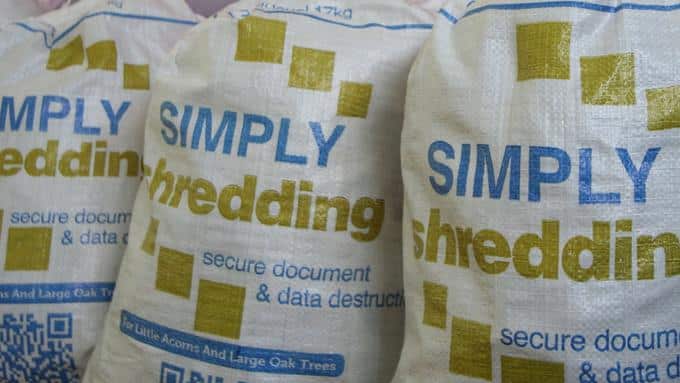 Back in February 2019, here at Masons Self Storage, we expanded the range of services that we offer here in the Vale of Glamorgan and became the Cardiff franchise of Simply Shredding. Offering you a secure shredding service for all of your confidential document needs right from your doorstep! It has been a huge success, offering our local businesses a secure and local option for securely shredding their confidential documents.
Our shredding services are for both personal use at home and businesses looking to confidentially destroy documents and private papers. Plus, once your documents have been securely shredded, the remains are completely recycled and avoiding landfills! To ensure you have complete peace of mind, we also provide you with a certificate of destruction, so you know that your documents have been securely shredded.
Plus our Simply Shredding service in Cardiff is dedicated to being environmentally friendly. All of the shredding waste is fully recycled and not a single sack goes to landfill. In fact, Simply Shredding actively supports the Woodland Trust and has planted over 750 Oak trees!
There's lots of reasons that you might need to confidentially shred documents, however, the most common reason that brings our customers to us is when they're preparing to move home, from old bank statements to client documents and details in your archive, we accumulate a surprising amount of paperwork! Before a big move is the best time to declutter and find the joy in your belongings; we're big fans of Marie Kondo here at Masons Self Storage! If you're moving home, take a look at our blog with top tips for getting your home ready to sell.
Not only are we conveniently located just 10 minutes from Cardiff Bay, Penarth, and Dinas Powys, but our domestic shredding services also offer an efficient service that is smooth and effortless, and it all takes place from your own front door!
Simply contact our team and collect your shredding sacks.
Contact us once you've filled the sacks and are ready for them to be collected. We will then arrange for the sacks to be collected and confidentially shredded on your behalf.
Once the content of the sacks has been destroyed, we will issue you with a certificate to ensure peace of mind that your documents have been securely shredded.
Office Shredding Cardiff
As well as our home and domestic shredding service, we also run a commercial shredding service. As a family-run business in Cardiff, we have built a wonderful business network through our sister companies for over 100 years. We are always on the lookout for ways to expand our complementary range of services that we offer Cardiff businesses!
Let us take away the headache of your documents and archives piling up and taking up space, by destroying your confidential documents with our secure shredding service. Whether you're looking to shred just a single archive box on an ad hoc basis or a monthly service with numerous sacks, we are here to help!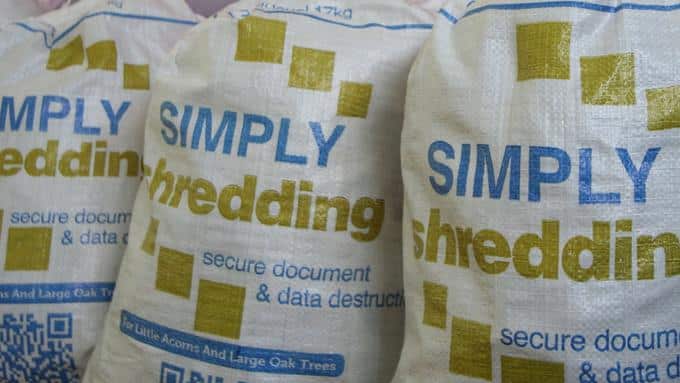 Why choose our Simply Shredding Cardiff service at Masons Self Storage?
Competitive prices
Flexible & tailored to you – one-off, ad-hoc or on-going monthly services available
Family run business – we have worked with businesses in Cardiff for 114 years
Pickup service for home & business available
Certification of destruction provided
Cost of sacks included in the rental
Environmentally friendly – all waste is fully recycled
Whether you're looking to create space and de-clutter at home, channeling Marie Kondo in your study or you're a business with confidential archives that are no longer needed, look no further than our secure shredding service that's both convenient and competitively priced. We're based just 10 minutes from Cardiff Bay and offering a door-to-door service, we are your local and secure shredding service for all of your confidential document needs!
For more information on the range of shredding services we offer, contact our expert team on: 0800 1244785 or email us at: info@masonsselfstorage.co.uk