Ho! Ho! Ho! Children at Penarth school, Ysgol Pen-y-Garth, will enjoy an extra-special visit from Santa this Christmas!
Here at Masons Self Storage, we have made a donation to ensure the Santa's Grotto at Ysgol Pen-y-Garth's Christmas Market/Gwyl Nadolig at the Paget Rooms on December 12 is full of festive cheer! Our donation will be used to decorate the secret grotto, which will also feature designs from local artists Haf Weighton and Enfys Emlyn. Although it's a busy time for Father Christmas, he's popping in especially for the event, so the children can enjoy a traditional Christmas treat!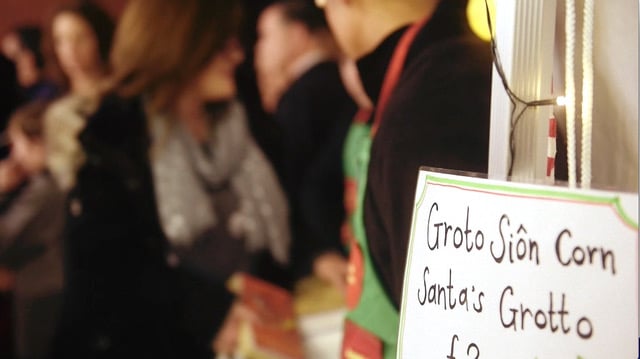 Last year, the Pen-Y-Garth PTA welcomed hundreds through the doors at the Paget Rooms for their first Christmas market, music event, and food festival and raised an amazing £3,500 to fund vital resources and play equipment for the school's pupils!
This year, the event is aiming to be bigger and better than ever! The event is open to all, bringing festive cheer to everyone in Penarth and beyond! Why not pop down to get into the festive spirit with performances from local choirs? As well as the chance to browse more than 30 local craft, style, health and art stalls, including: the new Brod Danish Bakery, Griffin Books, Jenny Gunnarsson Reflexology and Mwnci gifts; while upstairs at the Paget Rooms there will be a food court with tasty treats by The Crepe Escape, Cwitchitas Tacos, Vintage Cup and Cakes, Double D's Hot Sauce and Earls Cooking Saucestasting sessions. We can't wait for the event and we hope to see as many of you there as possible!
Join in with the festive fun at the Paget Rooms on 12 December between 4 – 7pm. If you'd like to find out a bit more about Gwyl Nadolig, you can check out their Facebook and Twitter.
Our state-of-the-art storage facility at Masons Self Storage is less than 5 miles from Penarth and we offer families and businesses, a flexible and secure self-storage service. We know how life can be, which is why our self-storage facility is accessible 24/7, 365 days a year. We love getting involved in our local community, from sponsoring the team at Barry Athletic Bowls Club to supporting Armed Forces charity, Woody's Lodge. We're always on the lookout for more opportunities to get involved with in the Vale of Glamorgan, so when we found out about Ysgol Pen-y-Garth's Christmas Market/Gwyl Nadolig, we definitely wanted to help bring Christmas a little early for the children! We will also be supplying materials for a craft day at Ysgol Pen Y Garth ahead of the Christmas Market/Gwyl Nadolig so the children's crafts can be on display at the event on 12 December!
Speaking about supporting the community event, our Marketing Manager, James Mason said:
With four generations of family now working in the Masons Group, we particularly enjoy supporting family-oriented events such as Gwyl Nadolig Penarth and we know what families need when moving and storing their belongings.
The Ysgol Pen Y Garth PTA said:
We're really grateful to local businesses like Masons Self Storage for their support. The 2019 Gwyl Nadolig is a fantastic opportunity for anyone in Penarth to kick of the festive season in style and start shopping and celebrating in their local community – raising money for a good cause at the same time.
We hope to see as many of you as possible at Ysgol Pen-y-Garth's Christmas Market/Gwyl Nadolig, it really will be an event filled with fun and festive cheer for all of the family!
If you're looking for self-storage, either to store all of those harder to hide Christmas presents or for your business, why not contact our friendly team today to see how we can help? Contact our team on 0800 533 5708 or email us on: info@masonsselfstorage.co.uk
The Big Day!
Our Marketing Manager, James, and his partner, Lucy, and their children, Jesse and Oliver, went along to the Paget Rooms and had a wonderful time! They even got to meet Santa!