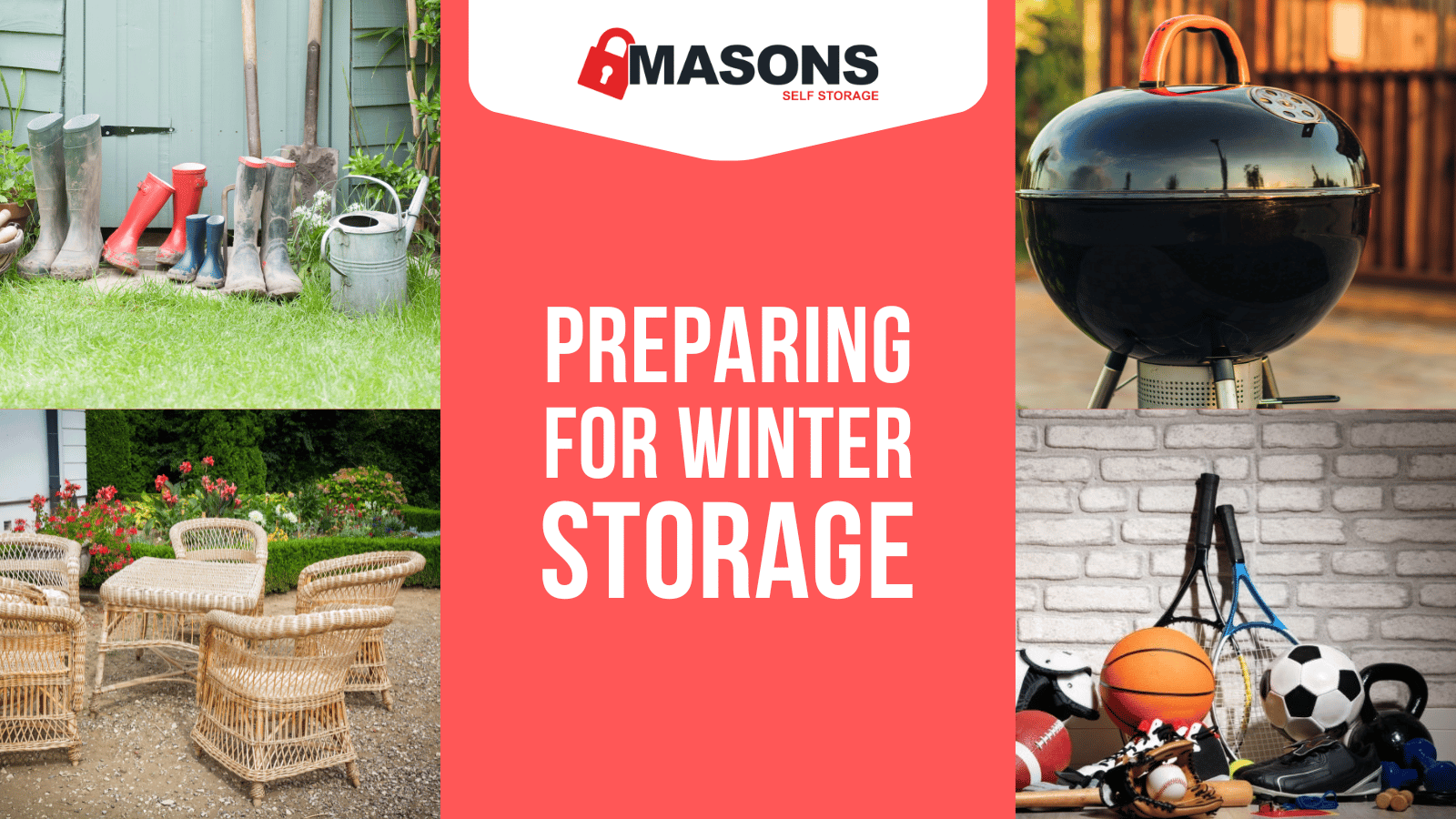 The season for big warm coats is upon us and many people are making space in their homes by placing their summer equipment and furniture in self-storage. But, before you get started, make sure you prep your items properly to avoid damage in the season where freezing temperatures and water are your biggest enemies.
From outdoor furniture and grills to sporting equipment and gardening tools, we love these items during the summer, and that's why they need to be well-taken care of when the temperature starts dropping.
Squeaky clean patio furniture
Wood furniture: Easily damaged with strong chemicals and rough materials. Therefore, it is best to use detergents specifically designed for wood and a soft microfiber cloth to wipe away moisture gently.
Wicker: A vacuum or brush is perfect for removing surface dirt before washing it with water and soap.
Metal, vinyl and plastic: These are the easiest materials to clean because it only requires a gentle wipe with soap and water. If you find that your metal furniture is rusting, make sure to scrub the problem areas with a wire brush to remove as much rust as possible. As an added measure, you can apply a coat of paste wax or silicone sealant spray to prevent further corrosion before storing it away.
If the furniture comes with cushions and pillows, these need to be washed and placed in plastic bags to prevent mould and mildew.
Well-protected sports equipment
During the warmer months, summer sports activities such as cricket, tennis, golf and fishing are big in the UK. But when winter rolls around, the associated gear needs to be placed in plastic storage boxes before heading to your storage unit. If you have outdoor equipment such as a goal post and basketball hoop, these should be dismantled and stored away to protect it from the ice and snow.
Food-free barbeque grills
Barbeques make for delicious meals and fun times during the bright summer days. In winter, grills are replaced with indoor cooking, making hearty meals on the stove-top. Before you place your grill in storage, make sure you remove any grease and food scraps to prevent the growth of bacteria. It is best done by firing up the grill for around 15 minutes, and after it has cooled down to a warm, the excess food and oil build-up will be easy to remove with soapy water and a sponge. It is important to remember that the propane tank is not allowed in self-storage facilities. Instead, these need to be removed and stored outdoors away from potential heat sources.
Garden tools without the grit
As the temperature drops, gardening takes a backseat to crackling days by the fireplace, indulging in your favourite hot drink. But before you store away your shovels, spades, garden hoses and watering cans, you need to wipe off any grit and moisture. If space is an issue in your storage unit, a clever organising idea is hanging these tools on a palette with hooks – this also makes for easy access when summer rolls in again.
Keep dry and covered
When it comes to winter storage, the big takeaway is keeping your items cleaned thoroughly to avoid damage and degradation. Additionally, after cleaning, always ensure your items are completely dry before storing as this prevents corrosion and the build-up of mould and mildew.
What's more, keeping all your items covered is highly recommended because this keeps it dust-free and protected from dents, tears and dings.
If you're unsure where to safely store all your seasonal items this winter, at Masons Self Storage we provide storage units in the heart of Vale of Glamorgan that are flexible and secure with high-end security systems, smoke detectors and fire alarms. It is accessible 24/7, 365 days a year and just ten minutes from Cardiff Bay. Email our team at: info@masonsselfstorage.co.uk or give us a call on 0800 533 5708 to find out more.