If your elderly loved one is moving in with you, another family member or a care home, chances are you have a busy time ahead helping organise their belongings. Besides the heavy-lifting, your loved one may be feeling overwhelmed by the process and emotional about leaving their old home and moving into a new one. The silver lining is you can make the transition smooth, easy and stress-free with a self-storage unit.
So if you're wondering how this extra storage solution can help, we have the details.
A place for big furniture without time limits
It's likely your loved one has decades worth of furniture that's big, bulky and probably constructed from high-quality heavy materials such as oak. If the new home has limited space for these large pieces, this is where self-storage comes to the rescue. These can be stored away while your loved one decides what they want to do with them. To ease their mind, advise them that there's no rush to make a decision, and they can keep their belongings in storage for however long they wish. This helps lighten a stressful situation and offers the ultimate convenience.
Let the organising begin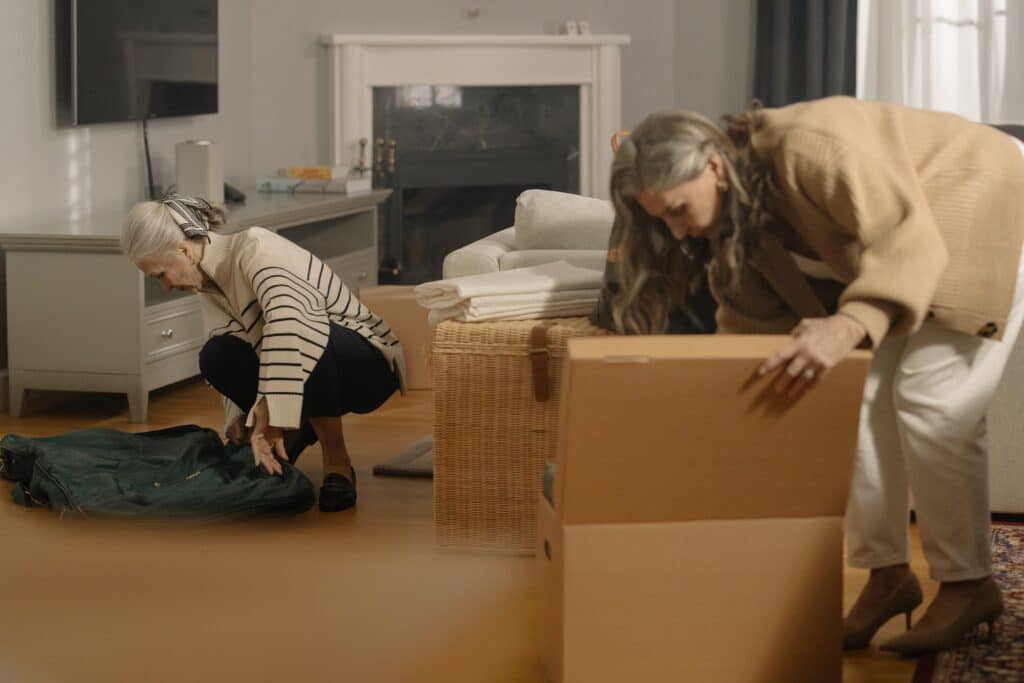 Those who use self-storage solutions quickly find that it kick-starts the process of organising belongings. So if your loved one decides they need the extra storage space, you will probably need to set aside some time to help them organise and decide which valuables will be included in the new home, stored away or donated, recycled or sold. As a guide – the following items are usually destined for storage:
Antique furniture with sentimental value
Family heirlooms
Valuable documents
Storage during staging
Is your loved one selling their old home? If so, selling it quickly will increase the chance of the home fetching a good price. However, to make this happen, it's essential to stage the home and remove any personal belongings before it hits the market. The best way to tackle this is to store away your loved one's items and only keep essential furniture for staging, or you can hire a professional staging company. The idea is to make the home as impersonal as possible while aesthetically pleasing so the potential buyers can imagine the space with their own unique stamp. A self-storage unit makes this all possible as it is a great resource for providing storage during staging.
Limitless access, day or night
For the elderly, saying goodbye to certain possessions is incredibly difficult – there may be many memories, emotions and experiences attached to these. Thankfully, a self-storage unit is a gentle reminder that your loved one can still keep their belongings with constant access to them, 24 hours a day, seven days a week! So no matter how small a new home is, there is always a space reserved for the things they treasure with limitless access!
Valuables tucked away safely
If your loved one is planning on keeping their valuable items, antiques and heirlooms in their new home, it's not the safest option, especially if they're living alone. Instead, by storing these in a self-storage unit, they can rest assured their belongings are safe and secure from theft thanks to perimeter fences, locks on each storage unit, 24-hour cameras, security guards, and much more. Of course, the security measures in place will depend on the storage service provider you choose, so make sure you select a company that suits your loved one's requirements.
An environment that preserves
A climate-controlled environment is essential for keeping valuable items such as art, jewellery, fine china and books protected against rain, humidity, extreme temperature fluctuations and even pests. If your loved one is using self-storage for items such as these, let them know that their belongings will remain in the same condition no matter how long it stays in storage.
Moving to a new home is stressful for everyone, but it's, even more, overwhelming for the elderly since they might be leaving behind a home full of memories – where their children grew up. Fortunately, at Masons Self Storage, our self-storage units make the transition a little easier for your loved one, providing solace and comfort knowing they can store away their belongings safely, securely and with unlimited access.
We service the Vale of Glamorgan and to the west of Cardiff. To find out more, email our team at: info@masonsselfstorage.co.uk or give us a call on 0800 533 5708.