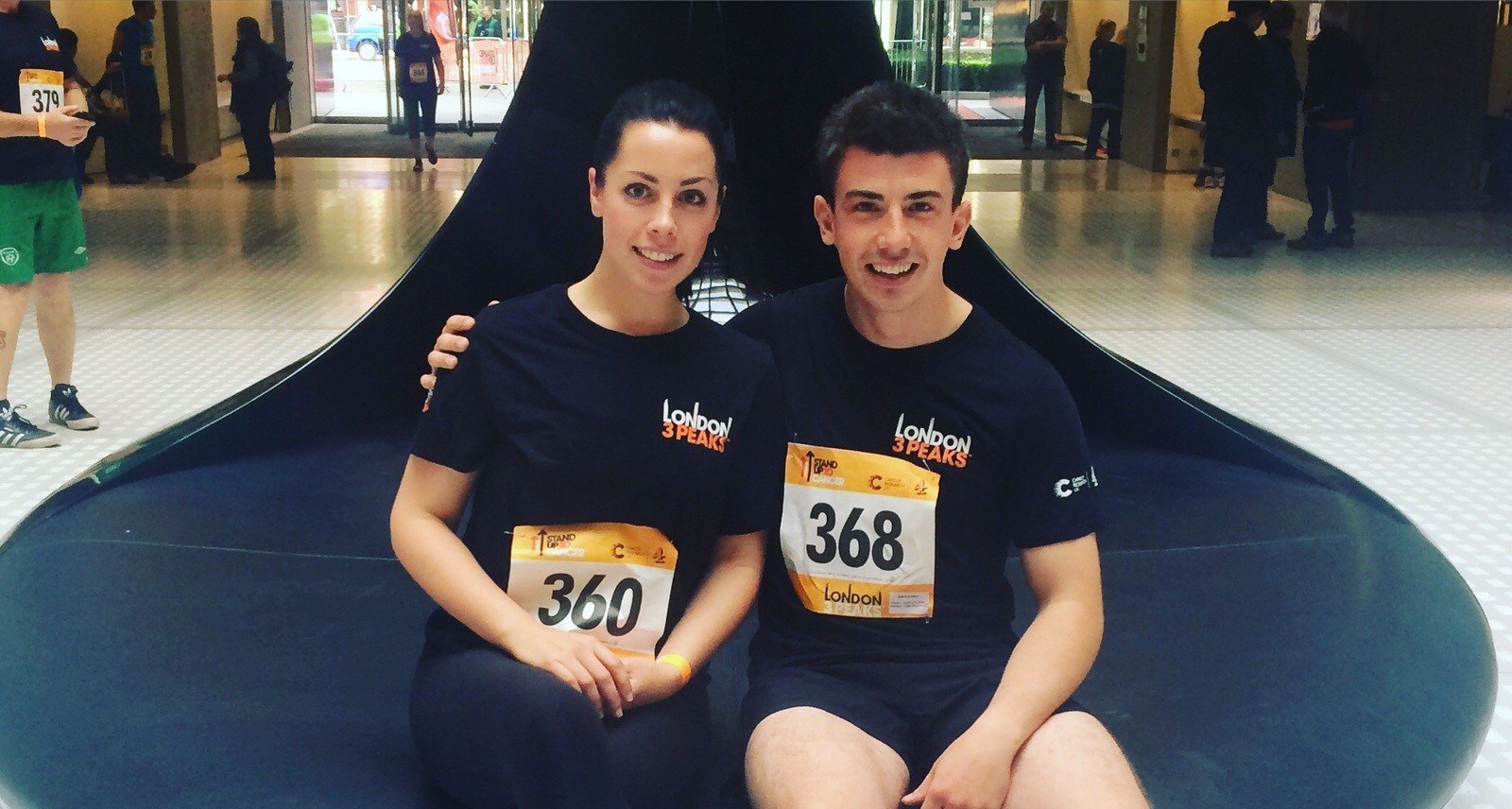 Earlier this month, Warren Mason, 24, assistant manager at Masons Moving Group and admin support at Masons Self Storage and his cousin Lauren took part in the incredible London 3 Peaks challenge organised by Stand Up To Cancer and Cancer Research UK. The extreme challenge was to run up the stairs of three of the most iconic buildings across the London skyline: The Gherkin, Salesforce Tower and 200 Aldersgate before then abseiling 56 metres down 200 Aldersgate.
With new research suggesting a staggering 1 in 2 adults will face a cancer diagnosis, we're so proud of Warren's dedication and commitment to such a cause; he had never participated in an event like this and then completed the challenge in an amazing 41m 50s, coming 5th out of 200 entrants! We hope others will be inspired by his fantastic achievement and contribution to helping beat cancer. There's still time to donate to this fantastic cause via Warren's Just Giving page, Warren is so close to reaching his target and every donation only moves us closer to beating cancer.
We spoke to Warren after the event, giving him just a second to get his breath back:
What made you want to do this?
I was drawn in by the challenge, the experience and the fact that it was for a worthwhile cause.
How did you prepare for the challenge?
I hired a personal trainer, Dafydd Williams, and we trained 4 times a week. It was incredibly high endurance work outs; sometimes I would be sick during training because it was so intense!
How far in advance did you start training?
I started training in August 2015, so two months before.
Was it enough?
It was ok, I came 5th. (We think Warren is just being modest here, 5th is brilliant!)
Did you make any compromises for the challenge?
I gave up alcohol for two weeks at the beginning… but it didn't last so the fact that I came 5th is pretty amazing. Who knows, if I had kept off the beer I might have even got 1st place Ha Ha!
How did you feel before the event?
Very nervous. I've never competed in a race before, I was really apprehensive. I didn't think I could do it. I drove up to London on Saturday thinking to myself 'how am I going to do this?!' But I just kept telling myself that I can do this! And then, I was up the Gherkin and I was looking out across London, it was very high, it was really quite amazing.
I got up at the crack of dawn on Sunday with massive butterflies in my stomach wondering what I had let myself in for. The first challenge was 3.6km run and then up the Gherkin. Before every run, you'd run to the station and the volunteers would take your time and then you'd run off to the next peak.
Would you do it again?
Yes, definitely!
So whether Warren's story inspires you to try the challenge next year or whether you just want to pat him on the back and help him reach his target there's still time to donate to this fantastic cause via Warren's Just Giving page, every donation only moves us closer to beating cancer.